AX6000 Next-Gen Wi-Fi Router TP-LINK Archer AX6000: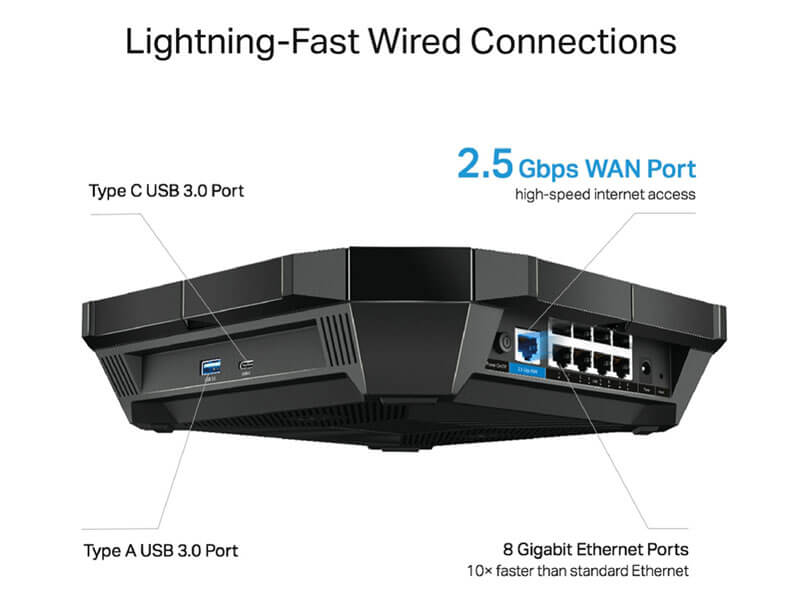 – AX Tech – 802.11ax (also known as Wi-Fi 6) features advanced technologies including OFDMA, MU-MIMO and 1024QAM, drastically increasing the speed and efficiency of the entire network.
– Ultimate Wireless Speed – 1148 Mbps on 2.4GHz (802.11ax) + 4804 Mbps on 5GHz (802.11ax).
– 1.8GHz 64-bit Quad-Core CPU – Balances the demands of your devices and improves NAT throughput to keep connections fast and continuous.
– Link Aggregation – Doubles the connection speeds to an external storage devices for faster streaming and data backup.
– Accelerated VPN Access – Securely connects to private networks providing 5× faster OpenVPN and PPTP VPN connections.
– Ultimate Range Wi-Fi – 8 high-gain external antennas deliver a Wi-Fi signal to every corner of your home, making all of your connections more efficient and stable.
– Range Boost – Greatly enhances receiving sensitivity to deliver a more stable router-client link.
– Beamforming Technology – Concentrates Wi-Fi signals towards individual devices to ensure stronger connections.
– Airtime Fairness – Balances bandwidth of connected devices to improve overall throughput and efficiency.
– Smart Connect – Intelligently switches each device's connection to the optimum available Wi-Fi band.
– Easy Bandwidth Management – Advanced QoS makes it easier for you to manage the bandwidth of connected devices or applications.
– Intuitive Web UI – Ensures quick and simple Installation without hassle.
– Fast Encryption – One-touch WPA wireless security encryption with the WPS button.
– Easy On/Off – Turn on/off wireless radio using the Wi-Fi button; turn on/off LEDs using the LED button.
– Power On/Off – Conveniently power on or off your router as required.
– Hassle-free Management with Tether App – Network management is made easy with the TP-Link Tether App, available on any Android and iOS device.
– Bluetooth Onboarding – Open phone's bluetooth and quickly sets up the network via the Tether app.
– Antivirus – Protects all connected devices in your home from viruses and malware.
– Guest Network – Keeps your main network secure by creating a separate network for friends and visitors.
– Access Control – Establishes a whitelist or blacklist to allow or restrict certain devices to access the internet.
– Parental Controls – Restricts internet access time and contents for children devices.
– Encryptions for Secure Network – WPA-PSK and WPA2-PSK encryptions provide active protection against security threats.
– Type C & Type A USB 3.0 Ports – Provide data transfers up to 10× faster than a traditional USB 2.0 port.
– Built-in Media Server – Allows you to play music, watch videos and view photos from any device on your network.
Specifications
Model 
Archer AX6000
Hardware
Ethernet Ports
One 2.5Gbps WAN Port, Eight Gigabit LAN Ports
USB Ports
One Type A & One Type C USB 3.0 Ports
Buttons
WPS Button, Wi-Fi On/Off Button, LED On/Off Button, Power
On/Off Button, Reset Button
Antennas
8 High-Performance External Antennas
External Power Supply
12V/4A
Dimensions (W x D x H)
10.3×10.3×2.4in (261.2×261.2×60.2mm)
Wireless Archer AX6000
Wireless
1148 Mbps on 2.4GHz (802.11ax) + 4804 Mbps on 5GHz (802.11ax), compatible with 802.11a/b/g/n/ac Wi-Fi standards
Frequency
2.4GHz and 5GHz
Transmit Power
CE: <20dBm(2.4GHz), <23dBm(5.15GHz~5.35GHz); <30dBm(5.47GHz~5.725GHz)
FCC: <30dBm(2.4GHz & 5.15GHz~5.25GHz & 5.725GHz~5.825GHz
Reception Sensitivity
5GHz:
11a 6Mbps: -97dBm, 11a 54Mbps:-79dBm
11ac VHT20_MCS0:-96dBm, 11ac VHT20_MCS11:-66dBm
11ac VHT40_MCS0:-94dBm, 11ac VHT40_MCS11:-63dBm
11ac VHT80_MCS0:-91dBm, 11ac VHT80_MCS11:-60dBm
11ac VHT160_MCS0:-88dBm, 11ac VHT160_MCS11:-55dBm
11ax HE20_MCS0:-95dBm, 11ax HE20_MCS11:-63dBm
11ax HE40_MCS0:-92dBm, 11ax HE40_MCS11:-60dBm
11ax HE80_MCS0:-89dBm, 11ax HE80_MCS11:-58dBm
11ax HE160_MCS0:-85dBm, 11ax HE160_MCS11:-55dBm
2.4GHz:
11g 6Mbps: -97dBm, 11a 54Mbps:-79dBm
11n HT20_MCS0:-97dBm, 11n HT20_MCS7:-78dBm
11n HT40_MCS0:-95dBm, 11n HT40_MCS7:-75dBm
11ac VHT20_MCS0:-96dBm, 11ac VHT20_MCS11:-67dBm
11ac VHT40_MCS0:-94dBm, 11ac VHT40_MCS11:-64dBm
11ax HE20_MCS0:-96dBm, 11ax HE20_MCS11:-64dBm
11ax HE40_MCS0:-93dBm, 11ax HE40_MCS11:-61dBm
Wireless Function
Enable/Disable Wireless Radio, WDS Bridge, WMM, Wireless Statistics
Wireless Security
64/128-bit WEP, WPA/WPA2, WPA-PSK/WPA2-PSK encryptions
Software Archer AX6000
Quality of Service
Device and Application Prioritisation
WAN Type
Dynamic IP/Static IP/PPPoE/PPTP(Dual Access)/L2TP(Dual
Access)/BigPond
Management
Access Control, Local Management, Remote Management
DHCP
Server, DHCP Client List, Address Reservation
Port Forwarding
Virtual Server, Port Triggering, UPnP, DMZ
Dynamic DNS
DynDns, NO-IP, TP-Link
Access Control
Parental Controls, Local Management Control, Host List, White
List, Black List
Firewall Security
DoS, SPI Firewall, IP and MAC Address Binding
Protocols
IPv4, IPv6
USB Sharing
Supports Samba(Storage)/FTP Server/Media Server
Guest Network
2.4GHz Guest Network, 5GHz Guest Network
Others Archer AX6000
Certification
CE, FCC, RoHS
System Requirements
Microsoft Windows 98SE/NT/2000/XP/Vista™/7/8/8.1/10, MAC OS,
NetWare, UNIX or Linux
Internet Explorer 11, Firefox 12.0, Chrome 20.0, Safari 4.0, or other
Java-enabled browser
Cable or DSL Modem
Subscription with an internet service provider (for internet access)
Environment
Operating Temperature: 0℃~40℃ (32℉ ~104℉)
Storage Temperature: -40℃~70℃ (-40℉ ~158℉)
Operating Humidity: 10%~90% non-condensing
Storage Humidity: 5%~90% non-condensing
Package Contents
Wireless Router Archer AX6000
Power Adapter
RJ45 Ethernet Cable
Quick Installation Guide
– Bảo hành: 12 tháng.
Để cập nhật thông tin giá Thiêt Bị Mạng Tp-Link mới nhất, quý khách hàng vui lòng liên hệ Hotline 0902 553 573 hoặc Fanpage để được hỗ trợ tốt nhất.